Do you need an Estate Plan... An 11 Minute Estate Plan?
As we accumulate wealth our financial lives become increasingly complex. This often leads to more solutions and greater sophistication. Estate Plans are one of those areas where complexities inevitably creep in.
Are you starting to think about estate planning? Are you beginning to ponder the question, "do I need an estate plan?" Maybe you're wondering when an estate plan is necessary?
Let me tell you a secret: Estate Plans don't have to be complex and boring. There's a better way. Estate plans can be simple and even take about 11 minutes to figure out.
Recently, a new client called and asked me if I'd accompany him to an estate planning meeting for his Mother (let's call her "Diane").
I agreed and brought a planning member from our team, Sarah Bradley. Sarah's is extremely detailed-oriented, and when it comes to Estate Planning the details matter. Our goal, when we start, is to get a clear understanding of what the facts are so that we can keep track of them.
Our client (let's call him "Steve") had two objectives:
Get the process over with as soon as possible
Keep it simple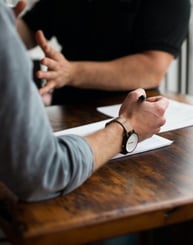 When we entered the room with Steve, there was an estate planning attorney there along with Diane's financial advisor. Diane was not present, as she wanted Steve to handle it and was happy for everything to go to him.
The estate planning attorney began catching us up on the planning that had been done in previous meetings. It became apparent that a lot of time and money had already been spent on some of the key areas like:
Are the assets and accounts titled properly?
Are the beneficiary details available and collected?
Are the right beneficiaries on the right accounts?
Do we know who gets what and when?
What appeared on the whiteboard was an alphabet soup of potential estate planning structures.
While I asked clarifying questions, Sarah's pen moved quickly to capture the many ideas that had been discussed before we entered the picture.
BACKGROUND
Steve's Dad had passed away a few years earlier and Steve, as the only child, had inherited the business his Dad started several decades prior. The business brings in over $100mm in revenue and was, by far, the largest asset in his parents' estate. Steve had already been running the company before his Dad passed, so the transition of leadership was seamless.
The issue before us was how to pass down what was left in Diane's estate—which was substantial.
We had a follow-up conference call with the various parties to go over some ideas for the estate plan.
Steve is a very generous guy. He established a foundation to fund his passion: leading people to Christ.
THE DILEMMA
As we finished the second call, I was faced with a question. Should I "go along" with all the work that had already been done? Would that be the quickest and simplest thing to do?
As I prayed about that question, I felt led to call Steve and tell him that I thought there might be a quicker and simpler solution.
THE SOLUTION
I told Steve that, while I respected the work that had been done, I wondered what he thought about having his Mom simply leave her entire estate to his foundation.
Steve said that he liked that idea much better than the complicated planning that was being proposed.
I then called the estate planning attorney and informed her of our conversation. She agreed that she could quickly and easily draw up that solution.
On the next conference call with all the parties, I asked Steve to share his wishes. He said he would like to have his Mother's assets left to his foundation. The attorney then spoke about how she could quickly draw that up. There were no questions, because who was going to argue with the beneficiary not wanting the assets?
The call was over in 11 minutes.
After months of expensive meetings, a quick and elegant solution was found.
---
Want help with your estate plan or looking to maximize your generosity?
---
Jeff Thomas is the Founder/CEO of Arkos Global Advisors. He is author of "Trading Up: Moving from Success to Significance on Wall Street". Jeff has assembled an amazing team to provide an open architecture, fee-only (fiduciary) platform that offers a wide variety of investment choice to clients. Arkos exists to help families thrive across generations.
Disclaimer:
Our intent in providing this material is purely for informational purposes, as of the date hereof, and may be subject to change without notice. This article does not intend to constitute accounting, legal, tax, or other professional advice. Visitors and readers should not act upon the content or information found here without first seeking appropriate advice from a trusted accountant, financial planner, lawyer or other professional.
Join us: