The Secret to Creating Wealth: Returns or Cash Flow?
Investment returns typically garner a lot of attention from individual investors. Should intermediate returns consume as much attention as they do, or are there better metrics for driving wealth creation?

"What was my performance this month, this quarter, or this year?"

These are some commonly asked questions.


WHY RETURNS AREN'T EVERYTHING...


While investment returns are very important, if you're not careful, they can become a source of distraction to the true goal of generating lasting wealth. Jamie Dimon and Warren Buffet openly questioned the importance of quarterly reporting in 2018. That's certainly not a small charge and would be a monumental change to an approach that has happened for decades on end, and this is coming from two very smart individuals. So, if it's likely not the best approach for major global corporations then should it be an approach you apply to your own financial household?

For decades, investment behemoths have coached individuals to believe that returns are the holy grail of investing. There is seemingly always a "better investment" or strategy that's going to solve all your financial problems while providing the safety needed for retirement. Great, but if you're highly focused on returns, does it not ultimately lead you to a cycle of obsessing and monitoring each and every swing in your portfolio? Month by month, year by year? Is this the best use of your time, energy, and resources?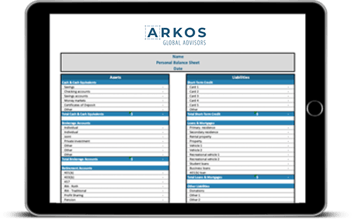 Acting in this manner will likely cause you to lose sight of the bigger picture. Your net worth, which is a complete picture of your true wealth. Your net worth is a much better gauge than your returns because it's predicated on a culmination of all of your financial choices, not the short run fluctuation of one, two, or a handful of investments. Your net worth is the truth.

Your net worth is the total value of your wealth and encompasses much more than your investment accounts.

There's a perception that you can only achieve your financial goals by comparing and beating an investment benchmark or index. While this thought creates a good story is there much truth behind it? Don't get me wrong, there is a minimum level of return needed to grow your wealth, but there are also many fallacies in subscribing to the belief that it all comes from investment returns. I would argue it has a lot more to do with choices and one's understanding of cash flow.


FOCUS ON CASH FLOW


First things first, constantly checking and focusing on returns can be detrimental to the process of creating lasting wealth because it generally causes you to get emotional. Emotions and investing are a lot like oil and water. They just don't mix well for the most part.

Checking returns and balances too often encourages you to focus on the short run. It's in this area, the immediate, where we see investors lose sight of their long run priorities. Losing sight of long run goals, wealth, and desired outcomes can leave you short on achieving the things you truly want.
What's the solution? Cash flow.

What you really need is to uncover how cash flow helps drive your wealth. What does that mean in your life, in your balance sheet and in your monthly burn?

If you understand where you have surplus and abundance in your budget or balance sheet, then you can reallocate that excess to more purposeful uses depending on your defined plan of action.

ALLOCATING YOUR CAPITAL

Creating a surplus of cash flow in your life provides a resource for delivering the lifestyle you choose as long as you have clarity around where you are today.

Lifestyles aren't driven as much by annual or quarterly returns as you might think. They are driven more by saving, investing, and creating excess cash flow. Having margin, excess cash flow, allows you to redirect that excess toward goals and sound financial decisions. Ultimately, lifestyles are determined by choice over a long period of time.

Choices drive cash flow. Cash flow leads to positive (or negative) financial outcomes. It all depends on how allocate the capital you have.

Understanding that you can manage and generate excess margin is the beginning of achieving your financial priorities.

So, what is excess margin? It's savings that can be used for investing. Excess margin (cash flow) is the source of your wealth and is what allows you to grow your net worth. So, while your annual returns are important, they shouldn't demand most of your attention. Your account balances may rise or fall over a month, a quarter, or year but what's important is watching whether your net worth is rising over time. This is done by managing cash flow, paying down debt, saving consistently, and investing your excess margin in a mix of assets that appreciate over time.
THE RIGHT FOUNDATION


How do you shift your focus from investment returns to the changes in cash flow?

1. Periodic review of monthly expenses
2. Periodic review of changes in your balance sheet.
3. Periodic review of your priorities and goals.

Write it all down or connect with us to discuss the tools you need to track these components. By implementing these small tasks, you will likely change your wealth path and provide more for future generations.

As your balance sheet shrinks or grows, your lifestyle will change. So, if your goal is to grow your wealth then focus less on fluctuation of financial returns and more on the foundations of your financial means. Take time to determine what drives your budget, balance sheet, and cash flows. Take time to understand allocate and utilize the resources you have today.

In doing so, your wealth will more than likely grow over the long run at a rate that you'll appreciate.
Kane McGukin serves as Senior Data Strategist for Arkos Global Advisors. He is passionate about technology, financial markets, and helping people progress. Kane and his wife, Ashley, live in Atlanta, GA with their two daughters. Arkos exists to help families thrive across generations by connecting their money with their purpose.
Disclaimer:
Our intent in providing this material is purely for informational purposes, as of the date hereof, and may be subject to change without notice. This article does not intend to constitute accounting, legal, tax, or other professional advice. Visitors and readers should not act upon the content or information found here without first seeking appropriate advice from a trusted accountant, financial planner, lawyer or other professional.
Join us: