You Have to Work Hard to Make it Simple
With the rise of the internet, the ease of connecting online, and increasing access to everything on-demand, it seems the general notion is that arriving at simple is a quick process that leads to instant riches.

Maybe it's just me, but it feels like the average person has lost touch with the reality that simple is a culmination of painstaking effort and is not easily achieved.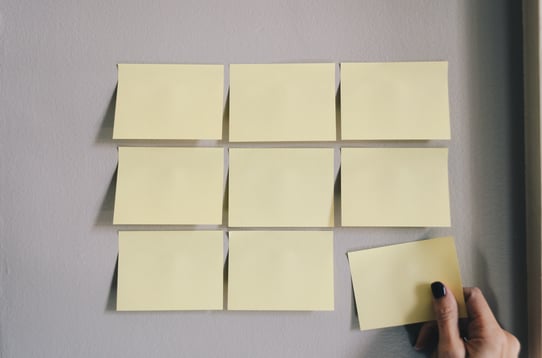 Over the next 3 to 5 minutes or roughly 780 words, I will walk through why it's important to understand that simple is not easy to arrive at and it takes a lot of time and effort to get there. In many cases years, not days.

Simplicity is not 280 characters or a jaw-dropping picture that makes your online friends jealous of your lifestyle.

Simple is not a career that morphs from nothing to a millionaire in less than 30 days.

Simple, quite frankly, is exactly the opposite of these things. Somewhere between now and when Steve Jobs famously quoted his definition of simple, its meaning has unfortunately been lost.
"Simple can be harder than complex: you have to work hard to get your thinking clean to make it simple. But it's worth it in the end because once you get there, you can move mountains."
Over the last decade, the point around what it takes to arrive at simple has changed.

SIMPLE IS NOT AN OVERNIGHT PHENOMENON
As Steve notes, simplicity is gained by hard work and an understanding that it takes putting in a lot of time, effort, and energy over years. It takes more than a few hours or a couple of days to achieve simplicity. It takes months, years, or decades.
Steve did not build Apple once, but twice and was kicked out in his first attempt.


Bill Gates did not build the Microsoft of 2021 in a year. He started in the uncool times of the 1970's…. 50 YEARS ago.


Jeff Bezos did not launch Blue Origin spacecrafts to the moon in a matter of weeks. Rather, he spent 20+ years painstakingly, and often by error, building Amazon which is one of the greatest revenue-generating companies on earth. This challenging process is what allowed Jeff to send rockets to the moon so quick.

The point here is, you or I will not arrive at simple in one tweet. You will not build a company or wealth in a quarter, or a year.
To arrive at simple, it often takes years and decades of error, failure, and slow iteration upon decent ideas. Sticking with the source that was not simple in real-time is what leads to simple… later.

So, if you want to be different or make a difference, I encourage you to steer clear of the notion that simplicity can be found in a matter of hours, in under 500 words, or in less than a 4-minute read.

If the Bitcoin and crypto revolution teaches us anything it should be that proof of work matters. It's slow and time-consuming but exponentially rewarding over time.
SIMPLE IS THE OPPOSITE OF A CATCHY ONE-LINER OR SLOGAN
Simple is detailed and iterative. It's not one and done but is many to one.

Show me a millionaire or billionaire that appears to have achieved simplicity overnight and I will show you an individual that spent at least 10 years honing their craft. Missing family events, parties, and all the fun stuff while aiming to bring "simplicity" to the world in whatever their passion project is.

Simple is a journey defined by a lifetime of work, not a moment's thought that makes you feel good. one of our firm's guiding principles is, "Simplicity Wins", and it does, but it also takes time and curiosity as well.
---
Archetype Wealth Principles
---


As Steve said, "Simple can be harder than complex… ."

Here's what I've seen over my 15 years in financial services. More often than not, doing it the simple or easy way leads to credit card debt and not financial freedom.
If simplicity were truly achievable in a short amount of time then we wouldn't annually watch and argue about what is the comic disaster of the subjective nature of college football rankings.
It's just not that simple. If it were there wouldn't be so much debate among fans and the playoff committee.
HOW TO MAKE YOUR DAY-TO-DAY FINANCIAL LIFE SIMPLE?
1. What are your wealth habits? Dive into the the details and meanings of all that you do.
2. What does your Balance Sheet look like?
3. Spend the painstaking time to find out what "simple" really means in your areas of interest.
4. How does your cash flow statement look?
If you do, after many years, you will likely be able to convey simplicity to those around you. Passing down powerful habits that are simple to execute… If you truly strive and desire simplicity, then expect to put in more time than others.
---
Kane McGukin serves as Senior Data Strategist for Arkos Global Advisors. He is passionate about technology, financial markets, and helping people progress. Kane and his wife, Ashley, live in Atlanta, GA with their two daughters. Arkos exists to help families thrive across generations by connecting their money with their purpose.
Disclaimer:
Our intent in providing this material is purely for informational purposes, as of the date hereof, and may be subject to change without notice. This article does not intend to constitute accounting, legal, tax, or other professional advice. Visitors and readers should not act upon the content or information found here without first seeking appropriate advice from a trusted accountant, financial planner, lawyer or other professional.
Join us: