The Principle Of Simplicity And The Key To Success
When it comes to life and money, a great rule to follow is Simplicity Wins!

I find myself sitting here thinking about how simplicity wins. How the simple approach executed well almost always has a better outcome. Have you ever noticed how hard things can be to keep simple?

When we add complexity thinking we can outsmart whatever it is we are doing. Often, when looking back, that's when we realize we got in our own way and if we'd just kept it simple the journey and outcome would have been better. I hope to save some of you the headache that comes with overthinking things. I hope to convey that a simple plan executed well leads to a better quality of life and end result.

One thing life never ceases to do is come at us hard and fast. It can catch us off guard and we often find ourselves contemplating our decisions after we make them. Looking back on our choices we realize "if only"…
If we only knew then what we know now…


If we only got out of our own way…


If we only would have listened to the advice given...
Hindsight is always 20/20
However, the opportunity is in remembering and applying the simple advice given.
That means coming to terms that our way, may not be the best way. Simple advice executed well gets us where we need to go. We can avoid many troubles by learning from others or learning the hard way.

We can keep it simple by compiling all these things into an executable plan before the unexpected happens. Knowing your response to a range of outcomes and being clear on what you are truly after, is the best way I've found to turn simplicity into a winning practice.

Recently, I was having a conversation with a mentor, and he told me "If I could only go back and invest in a diversified portfolio and avoid chasing returns the ride and outcome would have been better." Easier said than done, right?

It reminds me of the story of the tortoise and the hare. We are all familiar with the childhood story of the Tortoise racing the Hare. The race shouldn't even be close. However, the Tortoise takes a simple approach, and the Hare gets in his own way thinking that his speed will win for him. If only the Hare would have taken the simple approach, he would have won the race. The Tortoise had a simple approach. A simple plan that was actionable and executable. It involved taking one step at a time and keep moving forward. He executed that plan flawlessly.

No distractions, no breaks, just the slow steady consistent comfortable pace without deviating from the simple plan; and he won!

Do you have a plan? Is it simple? Actionable? And are you tracking it, executing on it every day, week, month, and year?
Principles Drive Investments
A Dalbar study from 2022 showed that the average investor underperforms the index by more than 3%. For investors, it can be difficult to stay out of your own way. That's why it's important, though hard, to remain Systematic, Unemotional and Diversified.

Create a plan, stick to the plan and see it through.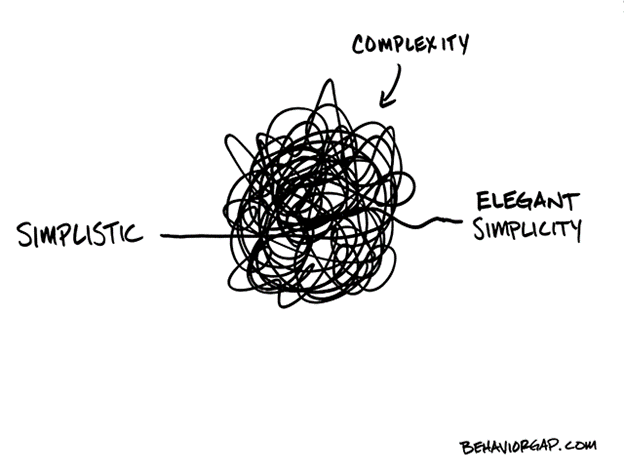 Source: Carl Richards
A financial plan simplifies choices. It helps you define what is important to you and then it makes choices easy as you now have a plan to follow and execute upon. If you don't have a plan or are having trouble making it simple. Reach out, I'd be happy to work on it with you.


Just remember… Keep things simple, have a plan and follow that plan. In life simplicity wins and I like being on the winning side.
T.J. Walker serves as a Client Advisor for Arkos Global Advisors in Portland, OR. T.J. graduated from Portland State University with his bachelor's degree and a double major in Business Management and Marketing. He met his wife Jena while they were on a spring break ministry trip in Louisiana, helping rebuild after Hurricane Katrina. They met in the spring of 2006 and have been married since 2007. They have five children, Ella, Tyson, Lucy, June and Carson. They are actively involved in their church serving in multiple roles. In their free time, they enjoy sports and the outdoors.
Disclaimer:
Our intent in providing this material is purely for informational purposes, as of the date hereof, and may be subject to change without notice. This article does not intend to constitute accounting, legal, tax, or other professional advice. Visitors and readers should not act upon the content or information found here without first seeking appropriate advice from a trusted accountant, financial planner, lawyer or other professional.
Join us: