On the Radio: An Interview with Jeff Thomas
Jeff Thomas shares his journey, why he founded Archetype Wealth Partners, and how Archetype serves high-capacity families uniquely: Helping families thrive across generations by connecting their money with their purpose.


Jeff started in in wealth management in 1995 and it was during his first 10 years of investing and building financial plans for clients, where he learned the value of having a team. Jeff quickly noticed the advantages that came from working as a team to serve clients in a better way.
In 2007, he woke up and realized that he did not want to have his epitaph read, "Here lies Jeff. He made rich people richer." What inspired Jeff, was going deeper in the planning process. Having the ability to put clients' narrative before their numbers. That was what Jeff was passionate about. He enjoyed helping individuals uncover their families' values and connect their money with their purpose.

This focus led Jeff to new heights as a financial advisor and in 2008, he was named to Morgan Stanley's Chairman's Club (top 2% of Advisors). From 2009 to 2013, Barron's magazine recognized him as "One of Texas' Top Financial Advisors", the Financial Times named Jeff to their inaugural list of "America's Top 400 Advisors" (2013), and Jeff won the five-year Five Star Wealth Manager award winner from (2012-2016). Jeff is also a Certified Public Accountant (CPA) in the State of Texas and a Certified Kingdom Advisor (CKA).

After 25 years of working for the biggest names on Wall Street, Jeff and his team concluded that they could only pursue their vision by starting their own firm. So, in April of 2017, they opened Archetype Wealth Partners, LLC to provide a next-generation, conflict-free platform where advisors and clients can flourish.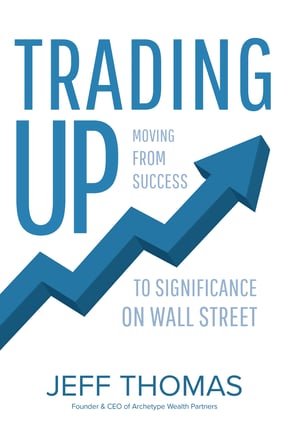 join our Newsletter:
Get content that helps you thrive financially.

Want to better understand your risk tolerance level and how that fits with the investments you currently hold?


Arkos exists to help families thrive across generations by connecting their money with their purpose.
Disclaimer:
Our intent in providing this material is purely for informational purposes, as of the date hereof, and may be subject to change without notice. This article does not intend to constitute accounting, legal, tax, or other professional advice. Visitors and readers should not act upon the content or information found here without first seeking appropriate advice from a trusted accountant, financial planner, lawyer or other professional.
Join us: